Digital Accessibility Beyond Compliance
Our mission is to create accessible and inclusive digital experiences for everyone.
Free Consultation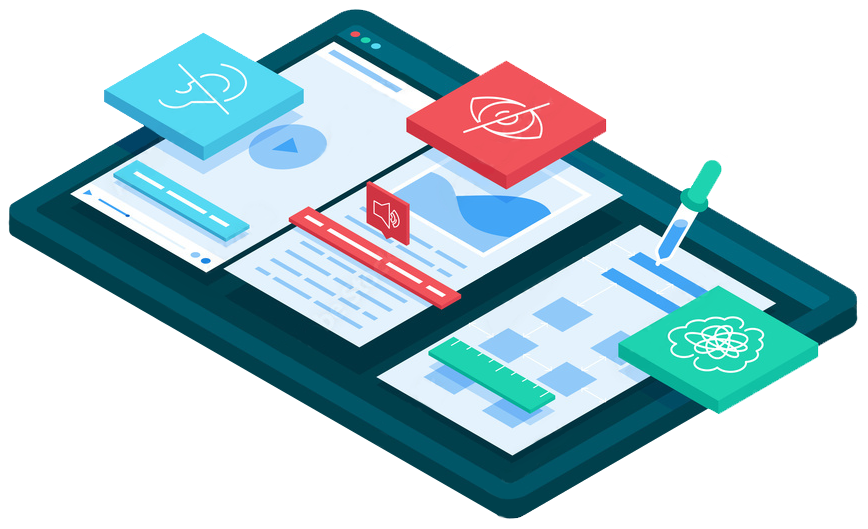 The solution your business needs
Auditing and Testing
Thorough evaluation of existing applications to identify potential barriers to accessibility.
Remediation and Maintenance
Proactive measures to maintain accessibility of applications and ensure compliance.
Accessibility Consulting
Comprehensive advice on creating accessible web applications that meet both user needs and legal requirements.
Training and Education
Expert instruction on accessibility best practices and standards for web developers.
Pioneers in Digital Accessibility
Trusted by large enterprise, government, higher education, and nonprofit organizations.
8k

Clients Served

3k

Audits Completed

750k

Documents Remediated

2k

Developers Trained
Comprehensive Digital Accessibility Assistance
We provide comprehensive digital accessibility support to ensure that your team has the resources and guidance it needs. Our services can help with anything from providing a second opinion on complex issues to offering advice on how to ensure your website is accessible. With our expertise, you can rest assured that your website meets digital accessibility standards.
Candid Evaluation
Be assured that when you seek support, it always comes from people with physical or cognitive impairments, as well as from those who use assistive technology.
Consice Reporting
Making accessibility understandable can be a challenge, but our experts are here to simplify the process and make it easier to comprehend.
A Blended Approach
You can't rely solely on tools for compliance. Get the most out of both methods by combining them together and giving priority to a manual, people-centred approach.
Full-Spectrum Support
Get comprehensive assistance for every step of the process, from design to testing, remediation and beyond.
Sustainable Solutions
Investing in retrofitting is costly, so it is important to think ahead and come up with solutions that will prove beneficial not only in the present, but also in the future.
Beyond Compliance
It is possible to create a product that meets technical requirements yet still be difficult to use. That is why we assist you in achieving both compliance and usability.
Contact Us
Achieve Digital Compliance
We provide a full suite of web accessibility services to meet global standards, ensuring that you comply with all relevant laws & regulations. Our experienced team will work with you to develop best-in-class solutions for web accessibility.
Free Accessibility Help
Web accessibility can be a daunting feat if you don't know where to start. Your customers can't navigate your site and you lose out on business. We help you stay in control of conformance by simplifying the process into one platform. So you can focus on your customers.
Unlocking Inclusion Across Industries
Government and Public Sector
We collaborate with government agencies to ensure their digital services and websites are welcoming to all citizens.
Education Institutions
We've partnered with educational institutions to transform their digital platforms into inclusive environments.
Healthcare and Medical Organizations
We've empowered healthcare and medical organizations to prioritize accessibility in their digital presence.
Financial and Banking Sector
In the financial industry, we've facilitated financial institutions in providing accessible and user-friendly online banking experiences.
E-commerce and Retail
We make online shopping effortless for all customers, fostering increased engagement and satisfaction.
Travel and Hospitality
Travel platforms we've enhanced now offer barrier-free experiences, from destination discovery to reservation.
Non-profit Organizations
We've partnered with NGOs to enhance their digital platforms, broadening their reach and impact.
Entertainment and Media
Our solutions ensure that websites, streaming platforms, and other media sources cater to audiences of all abilities.
Seamless Integration, Tailored to Your Workflow
Our comprehensive range of services is geared towards ensuring that your online presence is not only inclusive but also seamlessly integrated into your established workflow. We understand that each organization operates uniquely, and that's why our solutions are thoughtfully tailored to fit your specific processes.
Contact Us
Unlocking the Power of Digital Accessibility for Your Business
Inclusive Reach
Achieve broader engagement by making your digital presence accessible to all, boosting inclusivity and expanding your audience.
Legal Confidence
Ensure compliance with accessibility regulations, safeguarding your business from potential legal issues and reputational risks.
Market Expansion
Tap into untapped markets, as accessible content resonates with diverse demographics, opening doors to new opportunities.
Positive Reputation
Embrace digital accessibility to showcase your commitment to social responsibility, building a strong and positive brand image.